ABOUT CAMP LEGACY
We are Ira and Angela Walton, laborers and servants in Crenshaw County, Alabama, where I am currently the shepherd of the Crenshaw Community Baptist Church. After retiring from the United States Marine Corps, we relocated here to Alabama and shortly after, I became a police officer with the local police department. In 2000, we purchased 29 acres for our homestead, however, my wife and I decided to dedicate our land to be used for the Glory of the Lord.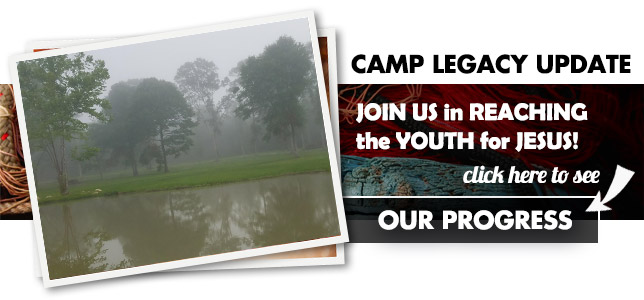 This decision was heavily based on us wanting to save children from some of the same dysfunction and turbulence that I myself experienced in my childhood. Our nation and communities have witnessed many tragedies involving our youth, which was a driving force behind building a youth camp as a place of refuge. For seventeen years, we have labored long and hard towards this enormous vision and by the grace of God, we have remained debt free. We are praying that with your assistance, we can raise $150,000, which is needed to construct an open-air tabernacle with a kitchen, two cabins that will sleep 60, with bathrooms and showers, and a storage shed. Camp Legacy is a 501(c)3 non-profit organization with a secure giving site and all funding will come from churches, sponsors and donors, such as yourself.
Camp Legacy was conceived and is designed with the intent on being an IMPACT CAMP. A camp that assist in redirecting our children's attention to factual realities, both physical and spiritual. Our goal is to reestablish attributes such as: character, integrity, honesty and compassion. We believe these attributes are vital in becoming a productive adult. Individuals who do not work to possess these values make poor choices in life and constantly deal with their consequences.
The youth of today are not the children of yesteryears. They are the children of an era of technology, living in a virtual, visual, high-tech and ultrafast world. This life has altered, if not completely changed, many of their realities. However, even though their realities may have changed, we all know the consequences of a purposeless life. We believe that if our children are to become the productive adults of tomorrow, they must understand their worth, their purpose, and their value…today.
I believe that our society is making a grave mistake by not engaging, encouraging, inspiring or challenging our children at an early stage in their lives. We believe if children understand their life worth, and are taught to believe they were born with a purpose, and are presented with consequences, both good and bad, that they will not only hold onto this information, but value it, as they move forward applying many of these lessons into their daily lives. This, in return, will make our youth more cognizant of their decisions and choices.
We at Camp Legacy and in partnership with the Brothers of Cyrene, believe that this is the answer. We believe it to be the solution that will lower the levels of teenage pregnancy, decrease the number of high school drop outs, crime, hopelessness and despair. Prevention is so much better than remediation. We sincerely believe that Camp Legacy, with your help, will be the prevention for many of our youth, especially those that are considered at risk.
Thank you in advance for your consideration in partnering with us in making this vision a reality.
Ira & Angela Walton